All aboard!
5th grade stud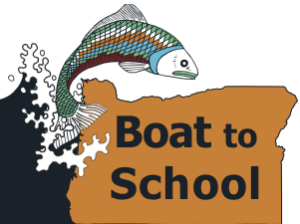 ents at the Heights are learning about Oregon Seafood this year, through a pilot program called Boat to School. Each of the four Oregon seafood commodity commissions, Oregon Albacore Commission, Oregon Dungeness Crab Commission, Oregon Salmon Commission, and Oregon Trawl Commission are giving presentations to the students. Students get to meet fishermen and hear about the seafood industry. Slide shows, informational booklets, and posters provide students with information about each fishery. With each visit, students also have a seafood tasting.
Our kick-off presentation was by the Oregon Salmon Commission. After smoking salmon all day at school, we had a delicious tasting event. The kids loved it and went back for seconds and thirds! Then students took home a shelf stable dinner kit and were able to prepare salmon burgers to share with their families.

In October we had a field trip to the Nehalem Fish Hatchery, courtesy of the Oregon Albacore Commission and the Oregon Salmon Commission. Students moved through a variety of stations and participated in the process of the salmon harvest and fertilizing eggs. They got a detailed fish anatomy lesson from the field biologist on site.
In January we began raising young salmon in our salmon tank at school to be released into the creeks that flow through our school campus. We are learning about the salmon life cycle, our local watershed, and our local ecosystem.
Following the salmon presentation, students enjoyed a tasting of delicious smoked black cod and a presentation by the Oregon Trawl Commission. Our next visitors will be from the Oregon Dungeness Crab Commission. Along with their presentation, students will each be given a clay crab to glaze and fire in our kiln here at school.
We hope this project will increase students' exposure to healthy, local seafood, as well as their knowledge about seafood and an important local industry.
For more information: Click here